"

She's on her way to something AMAZING! Lydia has that "it" factor."
— Josh Reedy - Thomas Rhett Band
Press
ACME FEED & SEED
-
Nashville Music Review
*for immediate release*
The lights go down on a smoldering red head in a tight glittering dress. 
Her smoky voice channels aching and longing as her swaying band breathes a fresh groove like smoke that fills the room. To the right, a baritone sax wails and shudders along with a trombone and tenor sax as the soul claps rise and fall in and out of a blaze of sound. The diva in front of her band raises her eyes to the ceiling, fist clenched tightly to her heart. The dancing ends over the roar of the crowd, they stand there entranced, sweating, and waiting: a typical dramatic moment for Lydia Brittan. 
The Lydia Brittan experience is like a vivid flashback to the sixties, one that transports you straight onto the set of Shindig, but with modern sounds reminiscent to Vintage Trouble and Amy Winehouse piercing through. 
No matter where she is or what she does, Lydia Brittan stands out. 
There's nothing typical about her. In person and on stage, she's a classy dressed lady with spunk and panache' laced with timeless elegance. Musically, she can just as easily echo Motown soul as well as she can ignite with classic Ella Fitzgerald. Blessed with soaring vocals and a natural instinct for hook, she is redefining what's possible for the modern music market. Lydia Brittan in the tradition of classic American roots music has somehow become a one-of-a-kind artist.
'Modest is hottest'
Laurie Everett
November 15, 2016
She's sedate sexy. Not overt.
Red hair, white skin, a pomp in the hair. Her latest tattoo says, "Pretty is, as pretty does."
Old school. But real time millennial.
Is the right word dichotomy?
Think a toned-down Marilyn Monroe, but updated this day and age. Now, add in some major singing chops.
Many people don't know what to think of Lydia Brittan.
She walked into Panera Bread in Providence Mt. Juliet and people whispered, "She's something else... Who is she?"
She's something else in Mt. Juliet and a major break in the emerging retro music scene. Lydia's getting big crowds on Music Row and on the road.
In April she packed Acme Feed and Seed restaurant/venue on lower Broadway in Nashville. She also wowed her fans at The Country Nov. 4 on 28th Avenue in Nashville.
Lydia's a gospel, soul woman who is transported back in the day to simpler times. Only vintage. And yes, she's a young one... 32.
Somehow she's in 2016, but wishes she were 1950s, or maybe 1960s. Her muse is her husband, Jeremy, who just happens to be a relevant artist of his day.
Lydia only wears vintage, much of which is found online or in closets of old.
"These clothes authenticate my real persona," she said while sitting in a booth at Panera.
Seriously, Lydia should not be in this decade. But she is and her fans literally dis their phones during her concert (except for the pics and snaps).
They get into her vintage, soul-filled concert and bury the high-pressure world we know, if only for an hour or two.
There's sway and swagger to her voice and music... almost like speakeasy of old, only better.
'Music from the past with present accent'
Her band is as big as her voice - with drums, guitar, organ, saxes (2) and trombone.
Lydia's deep gospel, urban-ish sound most likely comes from her childhood in small Goodhope, West Virginia.
"My parents are pastors," she said. "And they were singing pastors."
Her parents tell her she was singing before she formed full words. Of course, she sang in church while growing up. After high school she signed up for Bible College.
"But, my personal artist direction was never really toward worship music," she said. "Yes! I'm a believer. I have a heart with God."
A couple of life-altering moments helped Lydia secure her personal path. In 2009 she and her husband had to jump from the second story window of their burning, remodeled antique home.
They lost everything, almost their very lives. They tried to rebuild, but there were "just too many memories there."
At that time her friend, producer and co-writer Brian Bunn lived in Nashville.
"Work was eight hours away and it was hard to get projects done," she recalled.
They found Mt. Juliet with its "peacefulness, a lot like where I grew up."
The second thing that solidified her current mindset was the death of her brother, 17 years older, at the age of 51 from a heart attack. She can't speak of him without tearing up.
"I quickly learned, life is short, seize the day," she said. "I knew I needed to quit living for what everyone else thought I should be."
This artistic couple moved to Mt. Juliet and during their young lives spent about six years touring while husband Jeremy Simons magically painted massive images on canvas while Lydia and her band played and sang inspirational songs.
Original old sound
Besides the urban, bluesy, gospel chops, Lydia's personal style is what equally fascinates her fans.
"Why the vintage vibe?" she said. "My mom always had style. I'd see old photographs from the 50s and 60s and there were gloves and hats, heels and dresses. You'd never see my mom in yoga pants! And if she wore denim, it was pressed."
She said back in the day she emulates, "women were ladies, and men were gentleman."
There were higher morals and standards back then, she mused.
Don't get this wrong, Lydia exudes a confident sexiness, has about eight very meaningful tattoos, styles her hair in a bouffant style when performing, and is somewhat of a today's version of a 1960s movie pin-up girl.
She began to develop her style in her mid 20s. Vintage was not a trend then.
"When I get in a vintage gown I'm transported," she said. "My fans are transported back to then and see a window into the past where things were beautiful and romantic."
Her style of songs and performance are now an underground movement, growing in popularity, not only with millennials, but with boomers as well.
She never identified herself with "country" per se, but she loves Patsy Cline, Mariah Carey and Whitney Houston's music. When in high school she'd order CDs from a catalog, mostly gospel and soul.
"It's the diva in myself," she laughed. "I've always sung with attitude and honed my craft."
When she was 8 she "tried" professional singing lessons.
"They wanted me to sing opera!" she said. "Of course I wasn't into it."
She also writes and won a competition in the gospel division in an international competition. She writes about heartbreak, bad men and lost souls, among lighter lyrics.
"I've always been treated so well," she said. "But through life I sit back and observe everything. People in stores, at the movies, then I write about it."
She's just released an EP with songs "Work Boy," and "Suffer" she co-wrote. They speak to a lot of people in the strained dynamic of life. They have a '50s, '60s, vibe... think Etta James.
They are mixing and mastering an EP on a 45 with A and B sides and are shopping final companies
Lydia's second big goal for 2017 is a full-length album.
'Modest is hottest'
"It's a movement," she said. "I get a sense from my audience. They are hearing something different. I believe modesty can be sexy. Modest is the hottest. I like to show women and girls to dress like a lady.
Her music is from "the day" with a present accent for people who treasure the past.
To check out Lydia's music and scheduled dates, check out @lydiabrittan Facebook, Instagram and watch her perform on YouTube.
Writer Laurie Everett can be reached at laurieeverett1@gmail.com.

Related Articles

Read more from: 
General Lifestyle
 
Bio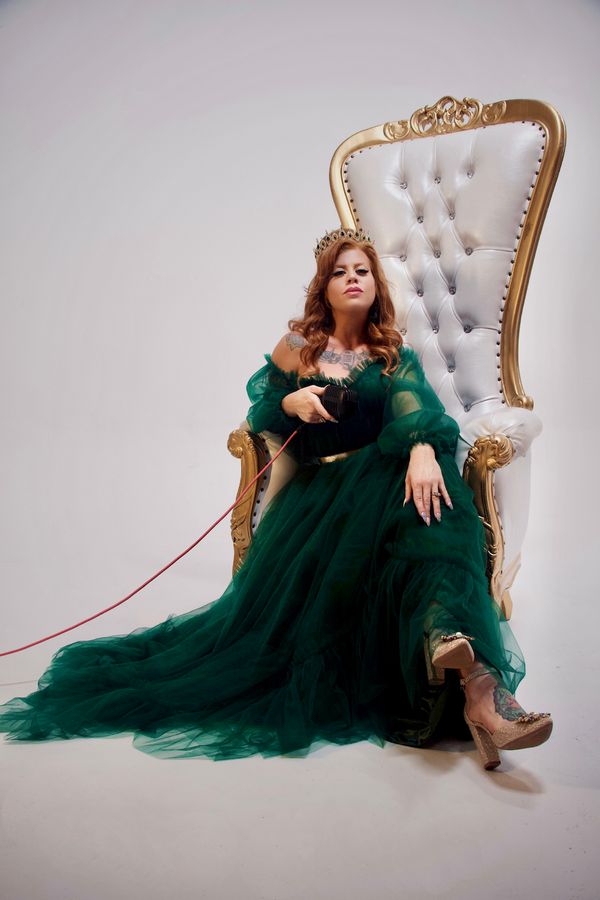 Lydia Brittan was born and raised in the Appalachian Mountains of West Virginia. Raised in the old ways, living in a log cabin, the cultural impact of music was always present. The sounds of 50's, 60's and 70's folk and gospel resonated in her home, having a great influence on her.  Growing up in a musical family, her Father purchased an old upright piano when she was only seven and fanned the flame of passion within her. Music was in her blood and she was hooked. 
Lydia made the move TN not long after Winning the prestigious ISC (International Songwriting Competition). 
Jim Morgan-ISC- says, "Lydia captures you with her hook and draws you in with creative melody from verse to chorus."  
She toured with her band nationally as Lydia and The Amorous.  As Lydia and The Amorous she opened on the national tour DecembeRadio "Live" and "Be Strong Tour." In these young stages of experimenting, Lydia found herself coming back to her original love of that retro sound and decided to record her new EP. Lydia is currently working on her EP with GRAMMY Nominated Brian Bunn. The upcoming release is to feature a 50's and 60's R&B inspired song list with soaring vocals, captivating keys and organ, rhythmic horns, and overall a soulful blend of melody. 
Lydia currently resides in Nashville, TN and performing live all over the US with her complete band including a three piece brass horn section.